News clips provided algorithmically.
---
IHS Markit Expands Alternative Data Offering
IHS Markit, a world leader in critical information, analytics and solutions, expanded its
alternative data
offering for asset managers with the launch of new stock selection and strategy signals covering the automotive sector. Covering more than 30 auto manufacturers worldwide and providing more than 10 years of historical data, the 32 new factors are designed to assist in the prediction of stock returns using analytics derived from company-specific datapoints on sales, production and market share. T… 2018-12-14 10:13:53+00:00
Read the full story.
CloudQuant Thoughts
: We have been impressed with the growing number of vendors in
Alternative Data
. IHS is one that we have examined and are finding opportunities for alpha. Data Scientists and Quants entering the world of algorithmic trading may find more opportunity in exploring
altdata
than in trying to find alpha in the traditional market data realms. A great place to start is with the buy new highs or breakout public scripts in our free app. We would love to be able to license a strategy from you.
AI Job Openings Surge 35X Since 2015 – SyncedReview – Medium
Over the last several years the world has witnessed an unprecedented acceleration in
artificial intelligence
research, development and deployment. There are now AI startups galore, most traditional industries are testing AI transformations, and governments around the world are writing ambitious strategic plans for the tech. To help interested parties stay abreast of all that's happening in AI, a team of researchers and experts from top institutions — including Stanford, MIT, OpenAI, SRI International … 
2018-12-13 21:26:44.799000+00:00
Read the full story.
CloudQuant Thoughts
: Zero surprises here. We have known this for a few years. The graph in this article shows that the biggest growth in Artificial Intelligence is in
Machine Learning Techniques
. Our internal quant wants more data on this. When we see something like ML Techniques we wonder what that really means. Is it a group all bucket put together just to make the author's case? Or is it a legitimate grouping of data attributes with a poorly chosen name? Either way, the narrative does ring true for us. We are seeing more graduate and undergraduates with interests in
Data Science
and Data-Driven career paths.
AI Weekly: This machine learning report is required reading
The AI Index 2018 report is out, and if you're interested in AI enough to read this newsletter, you really should read the report through for yourself. Maybe it's the nerdy thing you do when lounging with family this holiday season, or something you take in during a long walk or travel, but it's worth a look since it's one of very few attempts to collate a comprehensive look at the amalgamation that is the AI industry. See last year's newsletter… 2018-12-14 00:00:00
Read the full story.
CloudQuant Thoughts
: Did you know that the number of mentions of AI and Machine Learning in Earnings Calls by listed companies on the NYSE has been increasing? There may be a short-term trade opportunity there. At the same time, the mentions of cloud and big data have been decreasing. Maybe there is an arbitrage opportunity.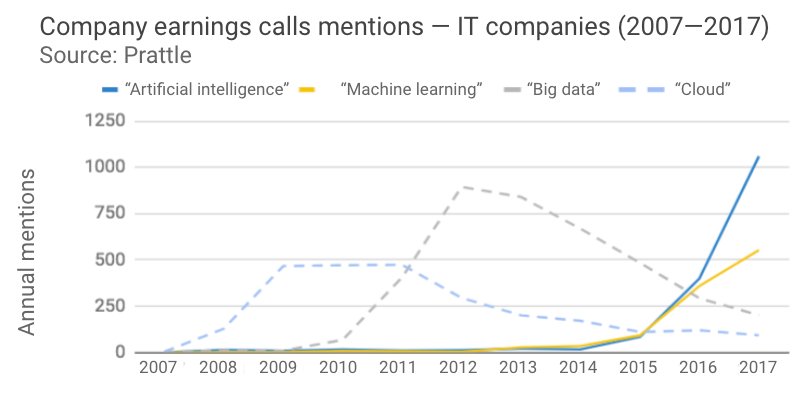 source: https://twitter.com/indexingai/status/1072172830786273280
China & AI
China en route to becoming global leader in AI research
News AI Big Data World
China set to overtake Europe and become biggest source of AI research globally in next four years, if pace of current trend continues
A new study released by Elsevier has shined a light on the global race to lead AI research, revealing that China is outpacing its nearest competitors, the US and Europe, in the bid to become AI's leading pioneer.
In 2004, China edged ahead of the US in … 2018-12-11 00:00:00 Read the full story.
China could surpass the US in artificial intelligence tech. Here's how
Artificial intelligence has the potential to transform many industries: Cars that drive themselves, facial recognition that enhances security, or systems that could detect cancer better than a doctor.
In fact, global GDP is set to increase by 14 percent because of AI, according to PwC. The tech's deployment in the decade ahead will add $15.7 trillion to global GDP, with China predicted to take $7 trillion and North Ame… 2018-12-14 00:00:00 Read the full story.
CloudQuant Thoughts
:
We tweeted about China and their advances in Data Science last week
. When another data point on this subject we know we are onto something. Adding our own color to this commentary we would point out that for the past couple of years we have been working with the University of Chicago offering project labs for their graduate students. Most are Chinese. We have hired several. They truly are taking a lead in our
Quantitative Trading
in Chicago.
Limitations of Quantitative Claims About Trading Strategy Evaluation
Overfitting is a chief concern for most systematic traders, and rightfully so. Traders use quantitative analysis methods to evaluate their backtests and tweak their strategies for better performance, however oftentimes adjusting a strategy based on the results of a backtest leads to an overfit strategy. Further, argues Michael Harris, determining when market conditions change is "in many cases fundamentally more important" than performance … 2018-12-11 10:37:50+00:00
Read the full story.
CloudQuant Thoughts
: Overfitting! It is hated but oh so common. The quantitative trader tweaks the model to come up with a wonderful backtest with great alpha and an amazing Sharpe Ratio. Woohoo! We have now a trading strategy that should produce a gazillion in profit without any risk. Really? The problem that many quants have is that their tweaks entered into the world of overfitting and they never knew it. We all talk about overfitting, but at what point do your model tweaks cross into that domain?
GTS acquires stake in systematic investment firm Wavelength Capital Management
GTS, an electronic market maker across global financial instruments, has acquired an ownership stake in Wavelength Capital Management, a New York-based systematic investment firm. Wavelength was founded five years ago as an independent investment management firm specialising in liquid, transparent, and cost-effective investment solutions designed to protect assets and produce consistent returns in any economic environment. The firm invests using… 2018-12-14 00:00:00
Read the full story.
CloudQuant Thoughts
: When a quant firm is using "innovative, proprietary technology" pay attention… It means that they are doing something very interesting.
Hot Topics in Data Science: Becoming a Data Scientist
The career of Data Scientist has been hailed as the sexiest job of the 21st century. Interviewing several current and former graduates from the Applied
Data Science
program at Bay Path University, we discuss the different paths we have taken to become data scientists, in the hope that our experience and knowledge will inspire others to join this hot field.2018-12-18 00:00:00
Read the full story.
CloudQuant Thoughts
: Wow – not sure how to take being in one of the "sexiest" jobs. Regardless this looks like an interesting seminar.
Uber's Training Tool Shares Ride for Deep Learning
the ride-sharing specialist, the Horovod project is a distributed training framework for Keras, PyTorch and TensorFlow. It is designed to handle resource allocation and provides the ability to scale
machine learning
training efforts. Horovod is also intended, for example, to accelerate training on a TensorFlow program running on a single graphics processor by extending training to multiple GPUs. The resource allocation and scaling features are based on new algorithms while tapping into high-performance networks to provide tooling to scale deep learning models. Uber has reported a doubling of scaling in … 2018-12-13 00:00:00
Read the full story.
CloudQuant Thoughts
:  We are increasingly focussing on opportunities in quantitative trading with
Deep Learning
models.
Here Are 6 Trends and Takeaway Messages from 2018 AI World
matter to the crowds at the AI World conference here, as activity around artificial intelligence continues to heat up. Over three days, more than 2,200 attendees learned about the latest advances in
machine learning
, deep learning, and the industries being affected by AI. While most of the conference focused on AI's impact on the healthcare, pharmaceutical, and enterprise software markets, a few sessions discussed industrial automation efforts, including the Industrial Internet of Things (IIoT), manufacturing, and autonomous vehicles. Here are six themes from this year's AI World, as observed by Robotics B… 2018-12-11 15:30:11+00:00
Read the full story.
CloudQuant Thoughts
: What is artificial stupidity or artificial humanity? Do trading algorithms really need to rely on human emotions such as fear, greed, and anxiousness? Shouldn't we be a bit worried about a trading algo getting emotional? What happens when an algo throws a tantrum?
Pushing forward against regulatory headwinds with artificial intelligence
Many regulations impact the way banks and financial services firms make commitments or conduct transactions with partners and customers. This means that they must find relevant contracts, review the affected language, and then make business decisions to revise or novate the contract, renegotiate commercial terms, or terminate to avoid non-compliance. The Institute of International Finance concludes that the cost of addressing regulatory requirem… 2018-12-17 09:57:36
Read the full story.
CloudQuant Thoughts
: RegTech has been increasingly growing over the past 5 years. In the world of trading and algorithms, this is going to be ever changing for the next 3-5 years. We expect to see more RegTech applied to trading algorithms, exchange rules, data collection, and accountability for all trading firms.
---
Below the fold…
---
Datawatch Swarm Enables Self-Service Data Science
A recent press release reports, "A major issue facing enterprises today is how to leverage advanced and predictive analytics on a large scale while data scientist resources are scarce. Datawatch Corporation today announced the release of Datawatch Swarm 2.2, which addresses that problem by delivering built in automation that connects data scientists with business analysts to better scale advanced analytics across the entire organization without i… 2018-12-13 00:05:26-08:00
Read the full story.
Datawatch Launches New Release of Swarm to Boost Adoption of Self-Service Data Science
better scale advanced analytics across the entire organization without increasing headcount. According to the vendor, the integration between Datawatch Swarm and Datawatch Angoss, the predictive and
data science
platform, creates an enterprise data intelligence marketplace that acts as a virtual exchange of trusted data and an execution environment for every data role in an organization. "Forward-thinking enterprise data teams that support their organizations with strategy, structure and tools are on a mission to achieve better cross-functional use of data amidst increasingly scarce data science resourc… 2018-12-11 00:00:00
Read the full story.
Don't Get Washed Out by the Overflowing Data Lake: 5 Key Considerations
On many TV shows and movies, there's that character that's back in the security operations center at headquarters or is working on a laptop outside the action in a van, the technical member of the crime-solving team that sifts through petabytes of video, logs, and other data to uncover the crucial clue to solve the crime. However, as database professionals, we know the truth. The data isn't just sitting there waiting to be analyzed. It's dirty, … 2018-12-13 00:00:00
Read the full story.
BTIG Debuts Real-Time Trade Analytics Platform
BTIG, LLC has launched a real-time trade analytics platform for its TradeSave™ – electronic trading clients. The new technology highlights venue utilization and generates critical trade metrics so clients can verify best execution. Its predictive analytics and post-trade data points help improve algorithm routing decisions and market timing selections for orders executed by BTIG's platform. BTIG is increasingly investing in technology and other … 2018-12-12 16:15:44+00:00
Read the full story.
IBM, Nvidia Partner on Converged System for AI Workloads
IBM is expanding its capabilities around
artificial intelligence
with a converged system that includes the giant tech vendor's Spectrum Scale scale-out file system and Nvidia's GPU-based DGX-1 supercomputer to enable organizations to more easily access the massive amounts of data that are crucial for running such workloads. The introduction of IBM Spectrum AI with Nvidia DGX marks the latest development in a partnership between IBM and Nvidia that reaches fro… 2018-12-11 00:00:00
Read the full story.
Does Big Data Cause Deconsolidation Of The Cloud Market?
f data that people create has increased substantially. With more and more people gaining access to smart devices the data generated is evolving. The magnitude of data is evolving into what we know as
Big Data
, which begs the question: does big data cause deconsolidation of the cloud market? What is Big Data? Big Data is not only a massive volume of data that is generated, but it is also both unstructured and structured data. Not all data are Big Data. To qualify as Big Data, the data must exhibit the 5 V's: Volume- Big Data must be a large amount of data. Value- The large magnitude of data should … 2018-12-14 18:47:38+00:00
Read the full story.
A Simple Solution To Machine-Learning Bias
Machine-learning models may occasionally suggest an undesirable action. The action might be either biased or unethical — or just bad for business. Most of the time, the suggestion won't be wrong. How can developers protect against these bad outcomes? It's Simple You don't have to do what the model tells you to do. If someone told you to jump off a cliff, would you? Of course not! You put the command into a larger context — the harm you'll suffe… 2018-12-13 09:42:43-05:00
Read the full story.
Large Cloud Providers Fuel Growth in Server Market
Hyperscalers like Google, Microsoft, Amazon and Facebook continue to be key drivers of a global server market that is seeing both growing revenues and shipments, according to industry analysts. The latest proof comes from analysts from IDC, who reported this week that revenue in the worldwide server space jumped 37.7 percent in the third quarter when compared with the same period last year. Overall revenue hit $23.4 billion and shipments jumped … 2018-12-14 00:00:00
Read the full story.
Regulatory Compliance Demands Sustainable Information Governance
Today, the explosive growth in the volume and variety of content and data is unstoppable and nearly overwhelming. When an organization stores too much content and data with too few controls, it becomes a significant liability. Serious legal, financial, and reputational consequences can result if companies fail to implement an information governance strategy that takes control of business information such as unstructured digital content, structure… 2018-12-12 00:00:00
Read the full story.
If You Want to Invest in Artificial Intelligence, Here's the One Stock to Buy
Most of today's tech giants are building out their
artificial intelligence
(AI) capabilities, but none moreso than Alphabet (GOOGL) . Over the last decade, the search giant has invested billions of dollars to develop AI and machine learning technology for use in its own products and services, as well as those of its customers. Futurist and bestselling author Martin Ford predicts that AI will have an economic and societal impact unlike that of any technological innovati… 2018-12-17 05:55:57-05:00
Read the full story.
MiFID II Boosts ETF Trading On Venues
Increased transparency and best execution requirements for exchange-traded funds in the European Union have helped boost trading volumes on electronic venues. MiFID II, which went live in the EU at the start of this year, required all ETF trading to be reported for the first time in order to increase transparency. Before MiFID II, it had been estimated that approximately 70% of ETF trading in the region was not on exchanges, so it was hard for i… 2018-12-14 17:16:57+00:00
Read the full story.
AI and Machine Learning: 9 Predictions for 2019
In 2018,
artificial intelligence
and machine learning took center stage and in 2019, the emphasis is expected to increase on cognitive computing technologies that can analyze data in ways previously unimaginable and act independently or with limited human intervention. Here, executives of leading IT companies offer their predictions for what's ahead in 2019. 1-Machine learning projects will move from science projects and innova… 2018-12-13 00:00:00
Read the full story.
LSE To Launch Equities RFQ
London Stock Exchange's pan-European request for quote for cash equities is due to launch in the first quarter of next year, highlighting the increasing convergence in trading between asset classes since new regulations went live in the European Union. Brian Schwieger, global head of equities, co-head equities, exchange-traded funds and fixed income, secondary markets at the LSE, told Markets Media: "Our technology to use RFQs in equities is rea… 2018-12-10 18:01:15+00:00
Read the full story.
Here's how you can master the latest AI technologies
It should come as no surprise that the future belongs to
Artificial Intelligence
(AI). As the driving force behind everything from self-driving cars to voice recognition and targeted online marketing, AI and Deep Learning concepts stand at the center of today's most exciting and important technologies. That means that the most lucrative and valuable careers of both today and tomorrow belong to those who understand how these concepts work, and who know how to work with their … 2018-12-15 00:00:00
Read the full story.
3 Ways Machine Learning Is Transforming Data Analytics
Have you ever wondered how Google knows exactly what you're looking for, why Netflix's recommendations are spot-on, and how Pandora is finding just the right tune? That's the brilliance of
machine learning
technology at work. According to Stanford University, machine learning is "the science of getting computers to act without being explicitly programmed to do so." Machine learning works in tandem with data science to provide the ability for machines to learn, develop, and make decisions based on user behavior. So, what does that mean to individuals and executives in the business world? For more … 2018-12-12 00:00:00
Read the full story.
Predictions 2019: How AI, Machine Learning Continue to Impact Us
We keep pounding away at this point here in eWEEK, and we'll do it again today: We are at an important convergence of technology here in this, the first quadrant of the 21st century. It's all available now: high-connectivity bandwidths, super high-quality code and code libraries, unprecedentedly powerful processors that use less power than previous models, unlimited storage capacities, ingeniously designed mobile and stationary connected devices… 2018-12-12 00:00:00
Read the full story.
Compass hiring 100 engineers for West Coast hub in Seattle, invading Zillow and Redfin's turf
Compass, the high-tech brokerage based in New York, has chosen Seattle as the home for its West Coast engineering operations, further boosting the region's real estate tech cred. Well-funded Compass is looking to hire at least 100 engineers for the company's "West Region Product and Engineering Campus" in Seattle. They'll work on a variety of projects to aid Compass real estate agents, including marketing tech, new media, web and mobile, securit… 2018-12-12 23:42:08-08:00
Read the full story.
Apache Pulsar Goes Cloud Native
Apache Pulsar, the distributed messaging and storage system that emerged two years ago from Yahoo, joins the growing list of analytics tools being made available via the Kubernetes cluster orchestrator—in this case running on the Google Cloud Platform. Cloud access to Pulsar via Kubernetes comes courtesy of startup Streamlio's real-time streaming analytics platform running on top of Apache Pulsar. The company said this week the latest version of… 2018-12-11 00:00:00
Read the full story.
A.I. 'bias' could create disastrous results, experts are working out how to fight it
Artificial intelligence
is projected to shape the world's future as everything from cars to legal systems embraces truly smart technologies. Some science fiction has predicted that artificial intelligence could one day take over the world and turn on humans, but experts warn there's a far more immediate risk, so-called biased AI. That is, when programs — which are theoretically neutral and without prejudice — rely on f… 2018-12-14 00:00:00
Read the full story.
6 uncommon principles for effective data sciences – Towards Data Science
…The more I delve in data science, the more convinced I am that companies and data science practitioners must have a clear view on how to cut through the
machine learning
and AI hype, to implement an effective data science strategy that drives business value. This article hopes to establish a framework to conceptualize and implement effective data science projects. Why should you care Showing that you as a data scientist can derive meaningful insights which improve revenue and profits will result in yourself being more valuable to the company. With highly optimize… 2018-12-17 02:09:50.952000+00:00
Read the full story.
Google receives 100% tax exemption for proposed $600 million New Albany data centre
News Data Centre A subsidiary of Google is considering constructing a $600 million data centre in New Albany, US after receiving a tax credit from the Ohio Tax Credit Authority The proposed centre would be built in the Oak Grove II Community Reinvestment Area, which includes New Albany's business park, on a 447 acre site, covering around 275,000 square feet when complete. Details of the proposed site's power capacity or PUE have not been disclo… 2018-12-11 00:00:00
Read the full story.
Forbes: What To Expect For AI (Artificial Intelligence) In 2019
AI (Artificial Intelligence) continues to be red hot. Then again, every top tech company is investing heavily in the technology, such as Amazon.com, Facebook, Microsoft and Google. But AI is more than just about big companies. Keep in mind that the technology is getting much easier and affordable to use. "We are seeing the democratization of AI through open source algorithms, affordable computing power and AI specialized hardware," said Roy Raa… 2018-12-11 15:20:35+00:00
Read the full story.
1.2251565477811053
New in HSAs: AI Capabilities and an Advisor Program
nto the fray by targeting two separate aspects of such accounts' utility: saving to pay for health expenses and saving as a retirement vehicle. Alegeus has announced an HSA initiative that "features
machine learning
and artificial intelligence to deliver the industry's first truly 'smart HSA,' while HSA Bank has announced an advisor-driven HSA investment program that enables investment advisors to provide an open-architecture HSA investment lineup to benefit clients' employees. The Alegius entry begins with an "enhanced employer portal" that helps employers "focus on the metrics that are most impactful to t… 2018-12-14 00:00:00
Read the full story.
6 Analytics Backed Business Investments For 2019
When balancing an investor portfolio and looking for new opportunities, it's always a good idea to invest in fast-growing stocks that show a lot of promise. The problem, however, is that going after "fast-growing" often means backing new or unknown companies, which is risky. The better idea is to take a long-term approach, instead focusing on an entire industry as opposed to particular companies, stocks or startups. Initially, this happens by re… 2018-12-12 09:30:40+00:00
Read the full story.
Microsoft joins regtech group to promote AI as a royal commission response
An example of Microsoft's interest in regtech is a partnership with Search365, software which can read documents for contextual meaning. By interrogating historical financial advice, it can flag concerns which can then be picked up by compliance or legal staff. Bank of Queensland's chief risk officer, Peter Deans, who has just joined the board of the RegTech Association, said regtech is already helping the bank to "better comply with an increasi… 2018-12-16 00:00:00
Read the full story.
WNS Hackathon Solutions by Top Finishers
How do you prefer learning a
machine learning
technique? First get to know how it works on paper and then apply it? Or get your hands dirty straight away by learning the practical side? I prefer the latter – there's nothing like ingraining a concept by right away applying it and watching it in action. Participating in online hackathons, preparing and tuning our models, and competing against fellow top participants can help us evaluate our p… 2018-12-13 12:51:10+05:30
Read the full story.
The State of Natural Language Processing
By Pawel Godula, Director of Customer Analytics, deepsense.ai. Natural Language Processing (NLP) is one of the most dynamic areas of AI and provides business with a host of opportunities. Yet there are many challenges to overcome. In 1950, Alan Turing proposed a test for a machine's intelligence. In order to pass it, a machine should be able to hold a conversation that would be indistinguishable from one a human would produce. Putting aside ma… 2018-12-14 15:10:02+00:00
Read the full story.
Robotics manufacturing firm Bright Machines expands to Seattle, hires senior Amazon engineering leader
San Francisco-based Bright Machines is coming to Seattle. The maker of software and robotics systems for manufacturing plans to open an office in 2019 and has hired Nick Ciubotariu as SVP of software engineering. Ciubotariu formerly worked as a senior software engineering leader on Amazon's Alexa and Amazon Cloud Drive. The company builds robotic "bright cells," a combination of hardware and software dedicated to specific tasks in the manufactur… 2018-12-12 18:28:21-08:00
Read the full story.
Data Analytics: As Good As the User
Numbers are more persuasive; visual representations gravitate bringing the 'wow' factor. All this is possible by the sophisticated tools of today that churn large amounts of data into nice beautiful picturesque dashboards. Some look like abstract art that would have certainly thrilled Picasso. The CxOs use these to make 'fact based' business decisions. I met a CxO, whose screen saver is a series of dashboards and she mentioned with pride that she… 2018-12-14 07:37:12
Read the full story.
Develop a NLP Model in Python & Deploy It with Flask, Step by Step
Develop a NLP Model in Python & Deploy It with Flask, Step by Step Flask API, Document Classification, Spam Filter Susan Li Blocked Unblock Follow Following Dec 16 By far, we have developed many machine learning models, generated numeric predictions on the testing data, and tested the results. And we did everything offline. In reality, generating predictions is only part of a machine learning project, although it is the most important part in … 2018-12-16 21:53:38.547000+00:00
Read the full story.
3 Big Mobile Data Predictions For 2019 Worth Watching
In 2016, IT professionals and web developers alike were astounded at the growth of the mobile web. People were downloading mobile data at a year-over-year growth rate of 125 percent — accounting for a total of 10 billion gigabytes of downloads in a single year — which equaled out to an average of over 31 gigabytes per person in the US. By 2020, Zenith forecasts that people will consume 28 percent of all media via mobile internet, and this could … 2018-12-12 10:30:34+00:00
Read the full story.
Role of Data Science in Data and Market Automation
Click to learn more about author Amit Dua. It is no news today that
Big Data
and Analytics are transforming the way different industries function on a day to day basis. A few years ago, companies were using marketing automation for their campaigns with varying degree of success. However, the role of Data Science in marketing automation wasn't given much consideration. But, in recent years, these two elements are seen to be getting linked, stronger than ever. Together thes… 2018-12-14 00:30:37-08:00
Read the full story.
Santa Claus Rally? Machines Render Old Stock Market Adages Worthless
This time of year we like to toss around sayings that supposedly explain how the markets are going to roll. The Santa Claus Rally: a seasonally bullish period, usually in the last week of December. The January Effect: the belief that stocks will rise during the first month of the year, particularly during the first five trading days. These sayings used to work well when humans were in charge of price discovery. Today that isn't always the case… 2018-12-16 17:25:49-05:00
Read the full story.
Seven out of ten people do not want robots drafting their Wills, survey finds
More than seven out of ten people would not want their Will to be drafted using
artificial intelligence
, a survey has found, even as an increasing number of law firms adopt the technology. In the study, conducted by law firm VWV, 73pc of those asked said they would not trust a robot to draft their Will, and almost a third said they wanted no AI involvement at all. Angharad Lynn, a senior associate at VWV, said: "Individuals are understandably anxious about ensuring that their Wills are drafted, a… 2018-12-17 00:00:00
Read the full story.
Fast and Furious Technology: From HFT to IoT
The rate of speed at which technology is changing is matched only by the speed of new applications. From high-frequency trading (HFT) to the Internet of Things (IoT), sophisticated processing capabilities mean that we just keep receiving and using data faster. But is faster always better? HFT could be the cautionary tale in all this need for speed. Have you read the book Flash Boys by Michael Lewis, in which he investigates the phenomenon of HFT… 2018-12-11 00:00:00
Read the full story.
---
This news clip post is produced algorithmically based upon CloudQuant's list of sites and focus items we find interesting. If you would like to add your blog or website to our search crawler, please email
customer_success@cloudquant.com
. We welcome all contributors. This news clip and any CloudQuant comment is for information and illustrative purposes only. It is not, and should not be regarded as "investment advice" or as a "recommendation" regarding a course of action. This information is provided with the understanding that CloudQuant is not acting in a fiduciary or advisory capacity under any contract with you, or any applicable law or regulation. You are responsible to make your own independent decision with respect to any course of action based on the content of this post.
https://info.cloudquant.com/wp-content/uploads/AdobeStock_96402298_small.jpeg
540
720
CQ Auto
https://info.cloudquant.com/wp-content/uploads/cloudquant_final_horiz-1030x342.png
CQ Auto
2018-12-17 19:18:51
2018-12-17 19:18:51
AI & Machine Learning News. 17, December 2018